Serious Mac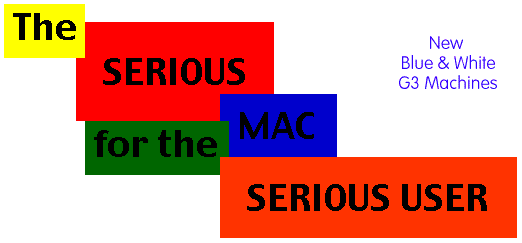 Did you ever wonder what the best Mac system is like? Do you want to find out the details like configuration and pricing? That is what this page is devoted to. Let CCPlace answer your questions on the Serious Mac systems.
The best Mac computer should be something that has enough power to complete outrageous tasks under the most stressful conditions. It should always be powerful and never go down. To make such a computer, it must have serious hardware and software. The speed of the computer would have to be amazingly fast, something over a GHz. It should have at least one OS that will never crash. Unfortunately, we can keep on dreaming on such a perfect computer.
However, we can almost match these requirements with a Mac that is available today. The features of today's available machines are not as super as described above, but we are moving toward that point. Soon we will make those features possible. In today's market, a Serious Mac should have:
Custom Features For The Blue & White Power Macintosh G3
400MHz PowerPC G3 with 1MB L2 cache
128MB SDRAM filling 1 DIMM
9GB Ultra2 SCSI HD at 7200 rpm & single-channel SCSI card
Zip drive
DVD-ROM drive & DVD-Video card
56K internal modem with FAXstf


Standard Features For New G3 Machines
RAGE 128 graphics card with 16MB of graphics memory
10/100BASE-T Ethernet built in
Two FireWire ports
Two USB ports
Apple Desktop Bus (ADB) port
Four PCI slots (one with graphics card)
VGA monitor connector
Apple USB Keyboard and USB Mouse
Mac OS 8.6 preinstalled


Price $3,039
This system is quite a powerful machine with advanced hardware, not just the standard stuff. With the G3 processor running at 400MHz, you won't have to wait much. The 1MB of level two cache will help you redo tasks so easily. As more software programs become more complex, they require more memory. So the 128MB of RAM will let you run your largest programs at the same time. If you create large graphic files or large video files, you know how long it takes to write them on your hard drive. That is why the 9GB Ultra2 SCSI drive was chosen for this system. Spinning at 7200rpms, this drive will let your large file tasks be executed faster. Since there is no floppy drive included, a zip drive will let you transport up to 100MB of data. DVD is becoming more popular. You can watch movies or maybe read large amounts of data, depending on the exact format. There is a battle between DVD-RAM and DVD+RW. One of the things missed from high speed internet connections is the ability to send and receive faxes. With this $100 piece, you can send faxes and do all the other stuff other modems do. This modem is internal, so it won't fill your ports. These optional components rev up the system.
The standard features of all the new G3 systems include a great deal of hardware. The 128 bit graphics card with 16MB of memory will clearly and efficiently display objects. The 10/100BASE-T Ethernet is built in and will allow you to use a high speed connection. Two Firewire ports will allow you to access hardware at up to 400Mbps. The two USB ports will also allow you to connect items like scanners or printers. The new USB keyboard and mouse are also included as standard features. This way, your system will be consistent. Finally, Apple's latest, Mac OS 8.6 is preinstalled for you.
With such components included in this Serious Mac, you might expect to pay a great amount of money. But if you take a close look at each part, you may realize that there are many high performance parts. That is why $3039 is a decent price. You can compare this Serious Mac to the older G3 Serious Mac system. You will notice that this new Blue & White G3 has better features and is $530 cheaper. That is a great improvement.
Apple Studio Display 17
16 inch viewable
.25mm dot pitch
1600x1200 max resolution

Price $499
Since the tower is blue and white, it would be appropriate to continue that style on the monitor. Apple's 17 inch display is nicely equipped with clear resolutions. But the $499 price tag seems slightly high when compared to other similar displays.
Our earlier page on the Serious Mac included a 19 inch Sony display. It had many of the features included with Apple's display, except that there is a two inch difference in viewable area. Also, Apple's price is about $200 less. A 17 inch display should be enough for many, but if you want Apple's 21 inch display, be prepared to pay $1000 extra.
Epson Stylus Color 900
Fast print speeds: 12ppm black & 10ppm color
Tiny ink droplets, 3 picoliters
1440 x 720 dpi output
Support for Ethernet, Fast Ethernet, and LocalTalk
USB compatible

Price $449
Epson has combined many things into this printer. They included the sharp resolution, fast print speed, and support for network cards. You shouldn't have to wait long when printing large areas of color. With this printer, you can create high quality pages with stunning appearances. This can be connected to a single system, or across a network. It will also plug into the G3's USB port, allowing fast communications.
In the earlier edition of the Serious Mac, we included a large area printer. It can be a valuable asset if you want larger posters or presentations. The Stylus Color 900 can print on sizes up to the standard paper size of 8.5 x 11 inches. Although sometimes you can print onto paper with more length, but still a 8.5 inch width. This new printer has better features than that of the earlier chosen model. Also, this new one is about $50 cheaper.
Final Words
This system was build for a user who needs the extra power from the machine. This is clearly not the most powerful piece on the market, nor the most expensive. However, it is above the prebuilt systems and some others. The price of this Serious Mac can be compared to the price of the older G3 models. For under $4000, you can have the new Serious Mac. The older model was priced at $4769. Now you save $811, and have the opportunity to get better quality items. For $3987, this Serious Mac is worth it.

---
READERS ARE NOW FREE FROM ADS. ENJOY!
---
This page was published by the CCPlace Staff. No duplication of this page or any part of this site is permitted.